Moonlighter Review Complete Guide: the Game's Features, Strong Points, and Issues
Moonlighter Review – More indie studios are releasing their products in the gaming market today. Different from more established developers, the general public might not know about the releases due to limited marketing ploy. It is such a shame because indie games like Moonlighter offer novelty in gaming within its genre.
The initial release of this game happened on May 29, 2018. Digital Sun, the game's developer, had worked on this game for a few years back. It was a worldwide launch in which 11-bit studios became the game's publisher. Its growth was slow yet pretty steady.
The game mixes two kinds of genre, namely business simulation and role-playing with action. When playing, gamers must perform two different tasks. In the daytime, the task is to manage an in-game shop. Meanwhile, in the nighttime, the player will go on an exciting quest to defeat their enemies.
Current players generally favor this game for so many reasons. People applaud its adventurous storytelling because it makes the game playing experience very fun. Moreover, it combines action with the lifestyle genre. This surely makes it more immersive to everyone who is playing the game.
The pleasant reception causes its developer to continuously try to expand Moonlighter further. This continuous expansion adds to the value of this game. It is no wonder that more players are starting to check the indie game. There are so many things to unpack about this game the one of Best PS4 Games Like Animal Crossing.
Moonlighter Review – Major Features of the RP Game
Although many players want to play this game, they still do not know much about it. An indie game like this tends to have a small-scale launch so people must look for its information by themselves. Here are some major features of this action slash RP game:
1. Platform Availability
The 2018 release accommodated platforms like PS4, MS Windows, Linux, and Mac's operating system. It gradually expands to other platforms, such as Switch in 2018 and iOS in the last quarter of 2020. These varied options enable more players to enjoy playing Moonlighter.
Players can buy the license for this game in numerous gaming marketplaces, such as Steam. The hard disk version is also available for console players. After the player has properly installed Moonlighter into a device, the basic offline version is ready to run.
For a worldwide audience, this game is also quite inclusive. It supports 12 languages including English, Spanish, and Mandarin. There will be subtitles throughout the entire course of this game. People with hearing disabilities can follow this game well.
2. Basic and Recommended PC Specifications
Computer-based players should check the compatibility between this game and their PCs. A computer system must have at least 4GB RAM size and 2GB of available storage. The game only runs if a player uses a computer with Windows 7 operating system or its later version.
It will be better if the computer system can provide an 8GB RAM size, though. Even if a computer only requires the equivalent of GTX260 for the video card, players can go higher than that. If the player can manage GTX660 or its video card equivalent, they will have a better experience.
Making sure that the PC fulfills, or even goes over, the standard requirements are necessary. A game will not run smoothly if the gadget cannot accommodate it appropriately. Players may fail to install the entirety of this game without the support of a capable computer too.
Also read: Forager Review
3. The Game's Narrative
Moonlighter has a solid narrative, although perhaps is not as significant as other RP games in the market. The story sets in a fictional town, Rynnoka. Its main character's name is Will who works as a shopkeeper in the town but aims to be a hero.
The character has one basic task to fulfill, which is making a living in the town. During the day, Will has to take care of his shop by selling items to the town's people. At night, Will sets out to explore dungeons and defeats enemies.
There are several dungeons that players can explore in the game namely Desert, Golem, Tech, Forest, and Wanderer. Will can equip himself with armors, weapons, and helpful potions to win the fight against bosses. This game can take a very long time to complete.
Strong Points about the Single-Player Game
According to people who enjoy playing Moonlighter, some highlights make this game worthy of attention. This list includes several strong points that players will immediately notice while playing the game:
1. Quality of the Graphics
Although this game has two-dimensional graphics, it is difficult to find negative reviews on the graphic quality. In fact, avid players have said that this game perhaps has one of the best graphics on ps4 in the 2D category. The game offers a good color palette in its graphic.
Certain players may prefer the 2D graphic gaming experience to the 3D one. Games with 2D graphics are less complex for the player's vision. A player will be able to concentrate better than if they are playing a game with a 3D graphic. It is also less burdensome to the player's gaming system.
2. Immersive Game Playing Experience
Because this game applies the role-playing genre, people can really play Moonlighter without stopping. A player will operate the main character in this game. The gaming experience feels very immersive according to current players. There is sufficient alternation between leisure and excitement while playing this game.
The leisure mode comes during the day in this game's realm when the character needs to take care of his shop. During the night in its realm, the game turns more active. Players must complete quests and defeat enemies. The game becomes more realistic due to different moods.
3. Regular Development
Players are more likely to choose a game that offers regular updates. Understandably, steady development attracts more users. When a game continuously develops, it enhances its entertainment values as well as eliminating the glitches in previous versions.
Digital Sun, as the game's developer, has a purpose to advance this game further. Players get to see new shop items, weapons, and visual look of the game from time to time. The challenges are also fresh because Digital Sun adds new levels, game modes, and enemies.
The best thing about game development is that players can use new items without an additional fee. As long as players have purchased the license for Moonlighter, the new features are available for free. There will likely be new things in the future too.
4. Interesting Game Features
This game offers interesting features that attract players to play it continuously. Most players gush about its shop inventory system. The system allows a player to organize their items and makes a profit from their shop. Also, there are new items that players can access on a regular basis.
Other than the inventory system in the shop, the game also provides fun collecting experiences. When the character goes into adventure during the night, he can collect loot along the way. Players also visit various locations on the game map during their adventures.
Also read: My Time at Portia Review 
Noticeable Issues in the Action RP Game
Of course, there is no such thing as a game without flaws. Moonlighter also has several limitations in its system that some players may consider taking away some of its enjoyment. The following are some minor but perhaps more palpable shortcomings of the game:
1. Offline Mode is Too Basic
Once a player has purchased the game's license, they can play it using any compatible platform. Players can play this game in offline mode. Unfortunately, the offline mode is too basic for an avid player's taste. It does not offer added values that the online mode provides.
There are reports that players cannot save their accomplishments if the game is in offline mode. The new updates are not available if players run it without the internet. Thus, it is almost imperative to only run this game if players have a steady internet connection.
2. Surface Accomplishment
Another downside of this game is its surface sense of accomplishment. Once a player has completed all levels within Moonlighter, the game basically ends. Restarting the game will only give players similar challenges as when they played it the first time.
Players with high achievement orientation may not feel satisfied while playing the game. The challenges within the game's realm do not expand beyond its fundamental premise. After a while, a player who often plays tactical and complicated games might feel that it is too repetitive.
3. Glaring Frame Drops
Frame drop is an issue that often appears in video games across platforms. When it happens, the game's resolution becomes low which makes the graphic more pixelated. In addition, a game that experiences frame drop also sees lags in its subsequent scenes.
The frame drop issue within this game is unfortunately too glaring to ignore. It may happen so suddenly that a player can fail to perform certain tasks optimally. Current players are demanding patches or optimization to take care of this particular issue.
Ending Note
The general consensus shows a relatively positive opinion about the game. It offers a new genre hybrid that people might have not expected before. It also has attractive features that make gaming more immersive. The compatibility with various gaming platforms also increases its accessibility to the general public.
Nonetheless, players also need to be aware of the shortcomings of Moonlighter. Certain past players had found the game to be too boring after a while. There are also issues with the offline mode and frame. Knowing its downfalls will help players manage the game playing better.
Alien Wins Slot Demo Review
Get ready for an out-of-this-world adventure with Alien Wins Slot Demo by RealTime Gaming! This newly released slot game features cute and colorful alien critters that travel through the universe to bring you huge payouts. With 10 fixed paylines and high volatility, Alien Wins is a game that is perfect for players who are looking for a high-risk, high-reward experience.
Theme & Design in Alien Wins Slot Demo
The game's theme and design are centered around delicious-looking treats, which might make you hungry while playing. But don't let that distract you from the dark and vibrant space background that adds to the game's overall visual appeal.
Basic Gameplay of Alien Wins Slot
Gameplay is straightforward, with one big button to take care of the spins and some smaller buttons that adjust the wagers. However, the game's true power lies in its special symbols and player interactions. The Morphing Wild is an extremely powerful version of a regular Wild, while the Bursting Wild sends up to three Wilds on the reels 2-4. And, if you're feeling lucky, you can activate the Cosmic Spins feature for a chance to get Wilds with random multipliers.
Alien Wins Slot Demo – Advanced Mechanics
Alien Wins comes packed with exciting bonus features that can greatly increase your chances of winning big. Here are some of them:
Morphing Wilds: This feature transforms the whole reel into a wild symbol, and you also get a free re-spin. If you get two Morphing Wilds, two entire reels will turn wild, and you'll get two free re-spins. Additionally, each wild symbol comes with a random multiplier of up to 8x, which can further boost your winnings.
Bursting Wilds: From time to time, a Bursting Wild symbol may appear on the reels, which will add up to three additional wild symbols to reels 2-4.
Cosmic Spins: This feature allows you to buy wild symbols during the game. You can activate Cosmic Spins by paying 10x or 95x your bet, depending on whether you want one or two wild symbols. This feature can be useful when you sense that a big win is about to happen.
RTP & Volatility of Alien Wins Slot
One of the highlights of Alien Wins is its high volatility, which means that players have the potential to win big payouts if they are lucky enough. The game has 10 fixed paylines on five reels, with a maximum payout of 50,000 times the bet.
The design of Alien Wins is particularly unique, as it features adorable aliens that resemble candy and sweets. The space background complements the theme well and creates a visually pleasing experience for players.
The Morphing Wild feature is particularly powerful, as it can morph an entire reel and provide players with a re-spin. Additionally, each Wild symbol comes with a random multiplier of up to 8x. The Bursting Wild feature adds even more Wilds to the reels, providing players with more opportunities to win big. Finally, the Cosmic Spins feature allows players to purchase Wilds and increase their chances of hitting a big payout.
If players want to try Alien Wins slot demo for real money, they can easily make deposits on any of their online casino sites. However, withdrawals require account verification, which can take up to a week. For those who want to try the game for free, a demo version is available on the slot88 website with a fun budget of $1000.
Overall, Alien Wins is a fun and unique slot game that provides players with the potential for big payouts. Its adorable alien design and advanced mechanics make it a standout among RTG's recent releases.
Conclusion for The Alien Wins Slot Demo
Alien Wins looks more inspired than the rest of the newer RealTime Gaming releases – you can almost sense how the developers themselves were having a good time while creating this game, which probably doesn't happen very often given their tight production schedule.
We believe that our Alien Wins slot demo review will not be the only one to mention how RTG concentrated on making the game more interactive – the buying feature may be somewhat unbalanced, but it still provides the player with a much higher level of control over what is occurring on the playing board.
Also Read: A Dark Matter Slot Demo – Reviews, Demo Version, Payout & Bonuses
A Dark Matter Slot Demo – Reviews, Demo Version, Payout & Bonuses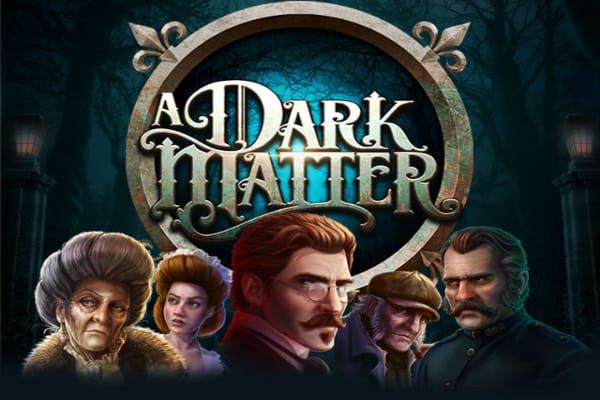 A Dark Matter Slot Demo is an intriguing Whodunnit (crime) themed online slot from Microgaming and Slingshot Studios. The game features invasive wilds and a generous free spins round with multiplied wins. This is a high volatility slot with a 96.17% RTP and a 2400x top prize.
A Dark Matter online slot machine theme
Set in a grand Victorian mansion, A Dark Matter Slot Demo is a murderous crime thriller from Microgaming and Slingshot studios. There's quite an interesting backstory here, as the town of Stonehurst has been plagued by a string of disappeared people. The crimes appear to be connected to Lady Eleanor at Wraith Manor and Detective Nathan Highmore has been called to the rescue.
The slot's aesthetic does a really good job of drawing players into the mystery right in the middle of the action. The symbols represent different characters who got caught up in the crime thriller and the reels are located at the bottom of the sinister double staircase in Wraith Manor.
How to Play A Dark Matter Slot Demo
There are only 5 paylines in A Dark Matter Slot Demo, but there's still plenty of action in this game as there's a generous top prize worth 2400x your stake. You can wager between .05 coins and 50 coins per spin, making this game ideal for both high rollers and penny slots players. In the collapsible menu you can toggle the Quick Spin feature on and off, set your bet and use autoplay for up to 100 spins.
What Is The RTP Of Dark Matter Slots?
The RTP 18Hoki of A Dark Matter is 96.18%. It is a high volatility game with wins awarded less frequently than the average online slot. However, if they do catch on, you're in for some very generous payouts. For example, our hit rate was around 15%, but we managed to land some pretty decent payouts worth up to 20x our stake.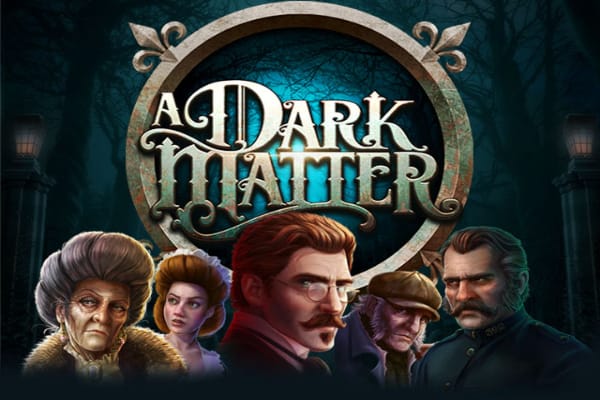 How To Win On Dark Matter Slots/ Win Big On Dark Matter Slots
Landing three or more matching symbols on the same payline awards you generous prizes when you spin the reels on A Dark Matter slots. The most generous symbol in the game is the detective, which pays out a prize worth 600x your stake.
Bonuses And Free Spins For A Dark Matter
When you play A Dark Matter, the first bonus you are likely to come across is the Invading Wild feature. When a row of wild symbols lands on the reels, this bonus round triggers. They then trickle over to the next reel to pack another stack of Wilds and can help you rack up some very impressive wins.
When three or more scatter symbols appear on the reels, you can also activate a free spins bonus. You can get up to 12 Free Spins where all Wild symbols are super stacked, allowing you to trigger the Invasion Wild Bonus more often. Also, if a wild reel is part of a winning combination, your prize is doubled.
A Dark Matter demo game
Here at Slots Temple, you may play the A Dark Matter slot machine for free. No deposit required, and you have 100,000 free spins credits to spend however you like. This is a great opportunity for you to get to know the slot machine and see if its gameplay suits your taste. We always advise players to wager between 150 and 200 free spins before deciding whether or not to spend money on a slot machine.
Overall Review – A Dark Matter slot machine
The intriguing slot machine A Dark Matter from Microgaming and Slingshot Studios has a distinctive whodunnit premise. The gameplay, on the other hand, is a little lackluster. The invasive wilds improves things a bit, but you don't see the feature very often – maybe five times every 100 spins. However, if she lands, she can pull off some big wins.
During the free spins round, things are sped up as you can trigger the invasive wilds bonus more often. But you notice that it happens more often and you can add up your prices faster.
Also Read: Reel Rush Slots Game: Gameplay, Features, RTP and Volatility
Reel Rush Slots Game: Gameplay, Features, RTP and Volatility
Reel Rush slots is a colorful and fast-paced slot game created by NetEnt that has a unique design resembling an old-school video game. Its bright colors, funky sound effects, and fun soundtrack make it an entertaining game to play.
The game has a unique reel layout that provides players with an opportunity to win big with every spin, thanks to its generous bonus features and high RTP. Discover what makes this game so popular among slot enthusiasts by diving into the world of Reel Rush slots.
Reel Rush Slots Game Overview
According to the betting blog, Reel Rush is an online slot game developed by NetEnt that offers an exciting and unique gameplay experience, complete with colorful graphics and lively music. The game has a playful and energetic vibe, featuring fruit symbols, a candy-themed background, and a fast-paced soundtrack.
Introduction
Reel Rush has 5 reels and can offer up to 3,125 ways to win, which can increase with each win due to the game's re-spin feature. Whenever you land a winning combination, the reels will re-spin, and two new positions will be added to them. This can continue with each consecutive win until you reach the maximum of 3,125 ways to win.
Features
The Free Spins feature is a highlight of Reel Rush slots game. You can activate it by getting five wins in a row. Once triggered, you will receive 8 free spins, and the game's maximum number of ways to win will be in play. This can result in significant payouts, especially if you land high-paying symbols.
RTP and Volatility
In simpler language, Reel Rush is a slot game that can pay out big but not as often. The game has a good RTP rate of 96.96%, which is higher than most online slots.
Conclusion
The Reel Rush slots game is enjoyable and thrilling to play, with its own special way of playing and many opportunities to win a lot of money. Whether you're experienced with slot machines or new to online gambling, you're bound to enjoy playing this game. Would you like to have a good time on slot777 betting websites?
Read Also: Aztec Gems Deluxe Demo Slot