Further Evidence That Twitter Is Stupid
Twitter tends to just keep proving that it is a vehicle for the promotion and/or furtherance of mass stupidity. That was well-illustrated on July 12/13, 2009.
Two trending topics popped up – ID LIC and 72B381. Here is a typical tweet containing both:
**AMBER ALERT****3 YR OLD GIRL WAS TAKEN BY A MAN DRIVING A NEWER SILVER TRUCK IN IDAHO FALLS,ID LIC. PLATE #72B381. PLZ RT
That "PLZ RT" stands for "please re-tweet."
And oh yes, the masses obliged. They re-tweeted like crazy.
The impulse was understandable. I certainly felt it. Then, just as I was cutting & pasting to re-tweet the message myself, I thought, 'hey, this IS Twitter, after all. What if this is bullshit?'
So I googled. And got this, from the often-reliable and under-appreciated About.com:
It's a veritable case study on how rapidly hoaxes can mutate and spread via social media.

An unofficial Amber Alert that apparently originated in Salt Lake City on Sunday night crisscrossed the country at lightning speed over the following two days, convincing well-meaning text messagers and Twitter users from Maryland to California that a 7-year-old girl in their state had been abducted by a man driving a silver truck with the license plate number 72B381…
The About.com article was written in February, 2009. Check out the anonymized (to save him some embarrassment) screencap of a tweet about the Amber Alert – it's dated February 12.
I really wanted to be sure that the Amber Alert wasn't some sort of stunning coincidence, so I went to the most reliable source for Amber Alerts I could think of – the National Center for Missing and Exploited Children. There were several current Amber Alerts as of late Sunday night, but none of them had anything to do with license plate #72B381.
Once again, Twitterers had, en masse, been fooled.
Forwarded via AOL
Twitter is a lot of fun and I enjoy it. I like sort-of meeting people there. I am always grateful when I get new followers or find someone interesting to follow. But I'm starting to believe that the flipside of Twitter's news-gathering wonders is its resemblance to those AOL e-mail forwards your granny or Aunt Lucy keeps sending you every fortnight or so. Old bullshit can be miraculously recycled via Twitter with the change of one detail and an all-caps plea to "PLEASE RT."
The MSM who have wholeheartedly embraced Twitter and helped it become a juggernaut seem weirdly blind to this ridiculous and embarrassing aspect of using the micro-blogging site.
That's why I remain devoted to merely using it to tweet about things like my vacation, and all the shirtless rednecks on scooters I saw there.
Aunt Lucy never sent me a flag-waving forward about that, just those fat twins on motorcycles.
ASSME Investigates: Gawker Made Him Semi-Famous, So We Give You More: Mark L. Emerson, Chief Angel
Mark L. Emerson, Goddess-seeker
So someone tipped Gawker to a link that's been floating around aggregator sites like Reddit for a few days – or they found it themselves – and up went Hamilton Nolan's post about Mark, The Goddess Seeker.
Poor Mark Laurence Donald Emerson. Yes, he may have been doing work on the Web for nearly a decade (here's a Usenet post he made in 2000 for a venture called AlgebraVictory.com), but he clearly, with his FindingMyGoddess.com, doesn't get what he's dealing with now. The Web has always been full of wolves, but now they kind of run the place, and Mark L. D. Emerson really put some meat out when he first put his dating site online.
Bloggers have actually intermittently commented on the site since March this year, and no wonder, because the dude really wrote some howlers into his detailed page about the Goddess he seeks. Gawker notes one of the best nuggets:
Mark's "on the brink of a large-scale financial success that many people believe will escalate me, over the next decade, from member of the middle class-to billionaire." Can you handle that?
Also worth noting – Emerson does NOT want a woman who is into Scientology.
So what's the deal with the guy and his soon-to-be billionaire status and distaste for Scilons? We have a few ideas…
Mark Emerson's route to Bill Gates money may be this: AngelBase.com. Emerson runs the site, and like his FindingMyGoddess page, it is registered to "Holy Realm of Surrendered Service" in Las Vegas. He first registered the address in 1997, so his faith in the money he'll make is obviously buttressed by a good deal of patience. A "profound, new, patented computing paradigm," here's what AngelBase will do:
AngelBase is going to redefine the entire $720 billion computing industry, from bottom to top…from microchips to global systems. This mind-boggling new technology will dramatically improve the way people use computers and the way computers work.

In approximately two years, people all over the world will begin using AngelBase. This will usher in a huge, Light-filled transformation that significantly uplifts human society. The AngelBase opportunity is vast.
Though the site owner admits the website is out-of-date (read, 'yeah, it still looks like it did in 1998′), he says "AngelBase LIVES… the system is progressing rapidly and we hope for public demos in Summer 2009 and a (beta) product release by December 2009 that will be downloadable from this web site."
What's up with AngelBase, really? Well, that's where it gets really fun:
AngelBase is a Sacred Industrial Project of
The Legacy of the AngelsTM — a spiritual movement dedicated to making this world a better place. And there is plenty of angelic work that needs to be done, because there are six billion people on this planet, and most of them are suffering…
An "Angel," by the way, is "any Being who is sincerely devoted to serving God on the basis of Love, Goodness, Truth, Peace, Joy, Caring and Generosity."
Who is the Chief Angel for AngelBase.com? Well, it's Mark L. D. Emerson, dammit. Says so right there on AngelBase.com – "Mark Laurence Donald Emerson, Chief Angel."
We wondered why he specifically said that his Goddess should NOT be a Scientologist – aside from the obvious reasons. It probably has something to do with this: Mark Laurence Donald Emerson v. United Church of Religious Science, et. al. The suit was filed in August, 2005 and was about "Injury – Assault, Libel, and Slander."
You know, ASSME believes in a guy's right to dream and call himself Chief Angel, too, even if that might make the Baby Jesus weep. We just can't be too nasty about it.
The rest of the Internet may point and snicker, Mark Emerson, but we salute you. You shine on, you crazy diamond.
Just stay 100 feet away at all times, man, and keep your hands off our goddesses.
July 10th is the First Annual "Freelancers Put On Your Pants" Day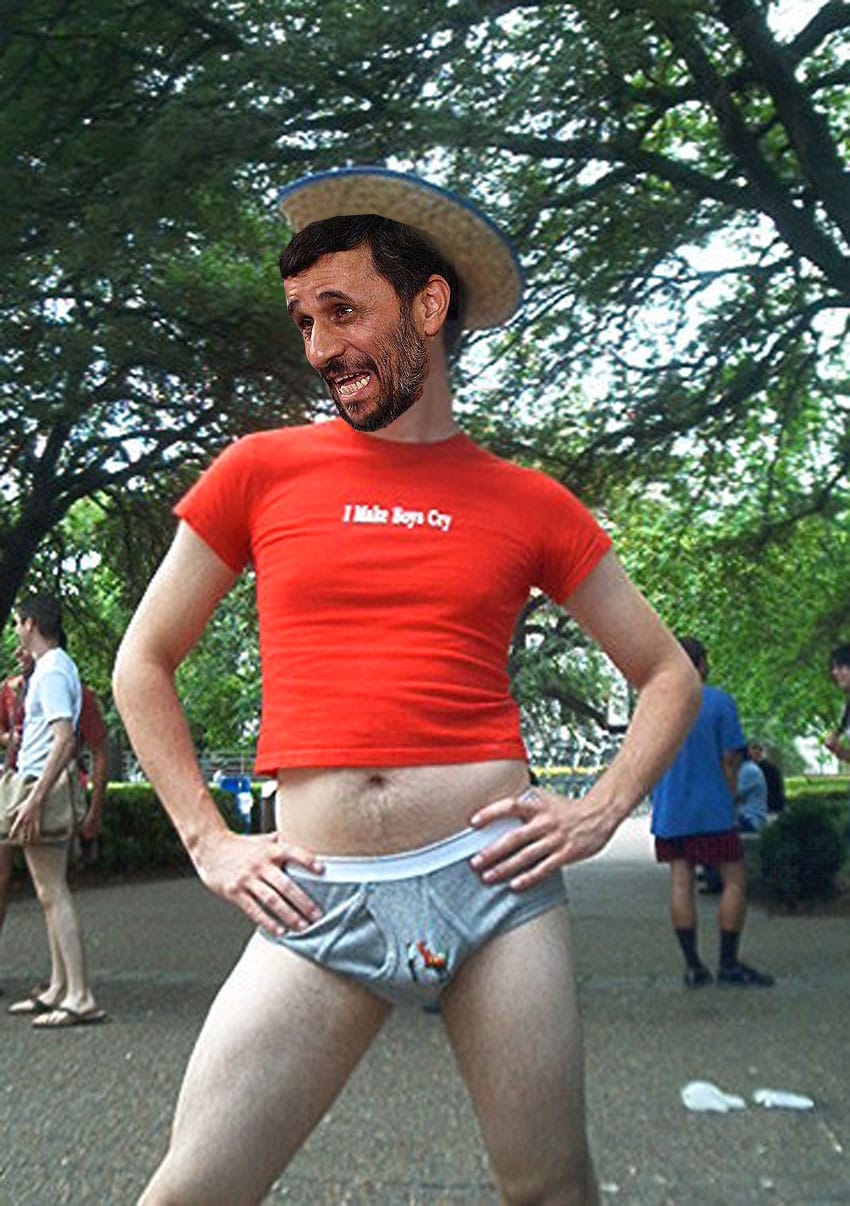 I'm not wearing any pants right now–and chances are, if you're reading this website, you aren't either.
While this is somewhat of a longstanding personal habit, being jobless and rattling around the apartment all day wearing my boyfriend's oversized button-down shirt is making me feel like a drunken landlady.
If you're freelance, unemployed, or underemployed, you probably work at home and don't always wear pants either. (Gentleman–no, those ratty "writing shorts" do not count.)
This Friday, July 10th, let's all make an effort to all put on pants. Fridays are often a time for a more relaxed dress code in offices. But not for the jobless. This Friday, take a shower in the morning, fix your hair, and put on some nice clothes even if you won't be leaving the house. Nice shorts and skirts OK too, but NO boxers or pajamas–you must wear clothes that you could actually go to a job in. (Send in pics if you want!)
Too often, un- and under-employment causes people to fall into a rut. This will give everyone an extra shot of self-esteem and aura of respectability as we continue our job hunting. It'll make us all feel better.
Further Knowledge about Stardew Valley You Might Want to Update
Review Stardew Valley – This is a Simulator game or RPG game, similar to the Harvest Moon game. Stardew Valley was released on 26th February 2016 and constantly had a lot of players and fans. Unlike the other games which have a lot of developers and the big company as the developers, Only Stardew Valley that just developed by a man named Eric Barone. This man used "ConcernedApe" as his nickname to develop this game.
If you are looking for "best PS4 games like animal crossing", then Stardew Valley game might be the solution.
The development of this game takes 5 years from 2011 until the released date in 2016. The developer of this game Eric was inspired by former RPG/Simulator games like Harvest Moon, Minecraft, and Terraria in the process of developing Stardew Valley. In the process of developing this game, it took 5 years. Finally, Chucklefish Games offered their company to be the publisher, so Eric can be more concentrated on developing this game.
Stardew Valley got a lot of positive acclaim after the release and also became the most sold in Steam gaming store, with 1 million downloaded in a month after the release. This game supported several languages such as Japanese, French, German, Italian, Spanish, Korean, Portuguese, Russian, Chinese, and English.
The game becomes more popular since the streamers on twitch start to play it and Stardew Valley also comes into the top 50 games after the release day and attracts a lot of new players. The developer's effort got paid off because this game won many awards and financial success.
How to Play Stardew Valley
In this game, the players will take a role as a farmer and breeder who takes over her or his grandfather's heritage farm in the Stardew Valley. The players will get tools and coins to begin a new journey and life. The characters have to manage the time, energy, resources, and money to clean the farm, take care of the cattle, make furniture, and mine the mineral stones.
Stardew Valley's players also have to join the social community with Stardew Valley villagers. Now, The Stardew Valley game can be played by multiplayer from 1-3 players to join in the valley. These players will work together to take care of the farm, Manage the resources and build a good relationship with the other characters in this game.
This game has no end, so the players can do anything they want. The gamers can play this game through several platforms such as Microsoft Windows, Linux, Mac, Playstation 4, Nintendo Switch, and Xbox.
Several Facts of Stardew Valley
There is a lot of similarity between Stardew Valley and other RPG Games. That's all because the developer (Eric) was inspired by Harvest moon in developing this game. But, there is also another unique fact in Stardew Valley that the players should know more about it, such as :
It has a surprising Storyline. Like the other games, Stardew Valley also has a storyline to keep the game becoming more fun. But, there is a unique storyline of this game. The back story is about someone who decides to move into the village because bored of the city's life, he or she prefers to take care of his grandfather's inheritance farm. You will know a lot of hidden secrets in each character of this game, the mystery in specific places, and a lot of mysterious items in this game.
As stress relief for the players. Stardew Valley is a very fun Farming game. In this game, you're not only becoming a farmer and just taking care of the farm, but You also can travel the forest, mine, and beach. This game is suitable for you who get tired of the city's life and want to start a life in the village. Despite only an online game, this game will create a fun sensation.
A lot of activity in this game. In Stardew Valley, you are not only willing to win something because this game has no end. You will never have the activities in Stardew Valley.
Train your consistency and patience. This game trains you to keep consistency and patience to finish your goals from the beginning of this game.
Stardew Valley In-Game Guide
If you're a new player that wants to play Stardew Valley, Here are several in-game guides you must know before starting to play this game. such as ;
The Players will see the guide at the sidebar at any time. This will guide the players to the place they have to go.
The Items: if the players want to get some help in picking the items, there are several main Page to help: Seeds, Crops, Tools, Minerals, Artisan Equipment, Resources, Forage, and Item codes for spawning cheat.
The Places: The players can check and take a look at these several locations, like Pelican Beach, Community Center, Pelican Town, Museum, Secret Woods, and Mines.
There are also many stores that the players want to visit: Hat Store, General Store, Joja Mart, Blacksmith, Carpenter's Shop, Marnie's Ranch, and Fish Shop.
Features In Stardew Valley
This game has a lot of features that can keep the players enjoying playing without feeling bored. These features also consist of many plots that will make this game will be more fun, such as :
1. Turn the Player's Field into a Lively Farm
Raising cattle, growing crops, starting the orchard, Crafting some useful machines, and much more. The players have a lot of space to create their dream farm. From this farm, the players will collect rare items that can be used to recharge the character's energy.
2. Improving Players' Skills
The players will make an effort to master a farming trick, so the player will reach the level up in 5 different locations: Mining, Farming, Fishing, and Foraging. For the progress, the players will learn a recipe for cooking and crafting. The players also can unlock the new locations to explore their skills by choosing other professions.
3. The Player Can Become Part of the Local Community
This game has 30 more characters that live in Stardew Valley and It means that the players won't have difficulties in finding friends. Each character has a different schedule and jobs that they have to finish throughout the year and the week.
The player also has to make friends with them to do some task like; Asking the player to help their problems, or tell the players their secret. The player also has to take action in the festivals like The luau, feast of the winter star, and haunted maze.
4. The Players Will Explore a Mysterious Cave
While the players do travel they will find a new dangerous monster, guns, gemstones, and many materials for crafting and upgrading the player's tools. By exploring the cave, the players will get a fun sensation and will be more creative in managing and collecting items.
5. Get a New Life into The Valley – After the Joja Mart Opened
The players have to change the way of life in Stardew Valley. There is a lot of town property that has to be repaired. The players have to restore the Stardew Valley into glory again by repairing the village community center or take the other chance to join Joja Corporation. This is the fun part of playing Stardew Valley.
6. The Players Can Cook Delicious Meals and Craft Several Items to Help the Player Out
The players will get more than 100 recipes crafting and cooking, they also will have a lot of different items to create. After eating the dishes, it will boost the player's energy, skills, running speed, or combat power. The players will craft the scarecrows, oil machine makers, and rare items like crystal.
7. The Players Can Customize the Appearance of Their Character and House
After choosing many decorative items. the players will have no more troubles and problems in creating their dream house. This feature helps the player to design the in-game models as they want. In this feature, the player has to show their creativity in designing the unique characters and properties.
5 Reasons Why Stardew Valley is Still Interesting in 2021
Entering the 5th year after the release, this game certainly already has a lot of players. That's why the developer keeps developing this game to make it always up-to-date. Here are the 5 reasons, why this RPG game is still interesting to be played in 2021 :
1. Can Spend Your Free Time
You can play this game whenever in everywhere because this game doesn't need an internet connection (can be played offline). Stardew Valley also has a mobile version for android and ios users. smartphone users don't need to worry because there will be a lot of updates for this game on the mobile version.
2. The Developer Always Updating this Game's Features
After the release of this game 4 years ago, the developer (Eric) is still updating this game to add a new storyline, new features and repair any bugs in this game to keep the player still comfortable in playing.
Now, The Stardew Valley has the latest update in the 1.5 version for PC users, the other console will get the latest update in 2021.
3. Stardew Valley Trains You to Manage Time
In this game, Your character also will wake up at 6 am and will sleep at midnight. so you have to manage your time every day to finish many activities like; Take care of the farm and do the special task. In doing this task, the character will get rest and lack energy, you can recharge the character's energy by eating until soaking in the warm water.
4. There are Crafting Features
The biggest difference between Stardew Valley and the other RPG/Simulator game is the Crafting Features. These features will make the players easier to create any tools from the material like stones, woods, and minerals. The players also need this feature to take care of the farm.
5. Marriage
The character of this game can marry the other character who has a "single" status. There are 6 characters in this game who can marry their character. The player's character must collect 10 Hearts material as a requirement to the marriage in this game.
In conclusion, Stardew Valley is still the best RPG/Simulator game besides Harvest Moon, Terraria, and Minecraft. This game has many unique features and gameplay that can create a fun Journey action. The players in this game will be creative because, in this game, they are trained to manage time, resources, tools, and many important types of equipment.